To the TIDE Blog...
Jan 7 2019
Counter-Reformation English Women and the Spanish Baroque
Like my early modern counterparts, I am drawn to patterns. I find pleasure in resonance and recurring motifs, in words and ideas that weave in and out of the everyday and acquire new associations and layers of significance. So as I sat eating chocolate-dipped figs in the rural Spanish town of Zafra last October, in the courtyard of what had once been the residence of a former lady-in-waiting at Mary I's court, Jane Dormer, I recalled those Protestant libels that denounced the seductions of Catholic Spain in sugared, palpable terms: the dazzling objects of the Counter-Reformation were 'the candied baits of Jesuits', inducing individuals to consume 'the poisoned fig of Spain'. Surrounding by vaulting arches and dramatic marble statues, I, for one, welcomed the poison.
Wax and wooden figures, silver and gold frames, jewelled crosses, flower garlands, a death's head affixed to a rosary: Dormer's Catholic tastes were apparent in the things she wore and collected, as in the large-scale building projects she commissioned during the fifty years she spent in Spain. In Zafra, it is still possible to walk through the built environment that Dormer and her kinswoman Margaret Harrington envisaged and helped create when they filled Zafra with putti and sombre paintings, reliquaries, brick archways, crosses and bells. These objects speak to Dormer and Harrington's devotion to sanctity as well as to their politics and social status. Our next Gate of Access series probes Anglo-Spanish transculturality through female architectural patronage, diplomacy, and collecting.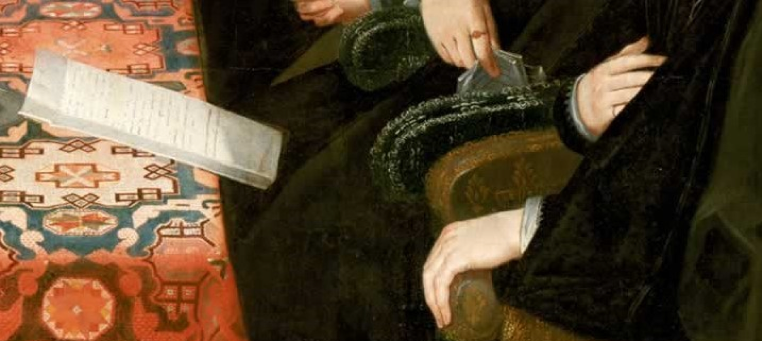 The Somerset House Conference painting at the National Portrait Gallery is often used to discuss Anglo-Spanish relations in early modern England. Spanish and English statesmen sit around the council table, circulating notes and reaching terms of diplomatic agreement: men tasked with ending war, the room enlivened by rich furnishings indicative of access to Mediterranean and eastern trade. Beyond the council chamber, however, women were also involved in Anglo-Spanish exchanges that related to both their religious belief and political affiliations. Jane Dormer's life (1538 – 1612) spanned the reigns of Edward VI, Mary I, Elizabeth I, and part of James I's. An unswerving Catholic, Dormer enjoyed Mary I's favour as a lady-in-waiting until she married Philip II's Spanish ambassador, the Duke of Feria. As Duchess of Feria, Dormer became a grandee, one of the highest-ranking members of the Spanish nobility. When the Duke died in 1571, Dormer did not return to England, but managed the Feria household in Madrid and oversaw the education of her son, Lorenzo. When Lorenzo came of age and married in 1577, Dormer continued to foster an international Catholic household, where she met and corresponded with Catholics from Europe and the British Isles. She wrote a letter to James before he became king of England, advising him on why the realm should return to Catholicism, and corresponded with other members of the English nobility on Catholic activity in Europe, negotiating the release of prisoners and providing intelligence on the status of European armies. Having travelled with Dormer's retinue to Spain in 1599, Harrington remained in Dormer's household until she married Don Benito de Cisneros in 1588. When she lost both her children and her husband, she began her project to found the convent of Santa Marina, which Dormer continued when Harrington died in 1601.
Zafra is still dominated by the buildings whose construction Dormer and Harrington helped oversee. This includes the Santa Clara convent, the Parroquia de la Candelaria, and the iglesia conventual of Santa Marina. The large brick structure of Santa Marina is adjacent to the Feria palace, with an oratory where tenants could hear and see the mass in 'magnificence and devotion'. Forty nuns lived in the convent, and Dormer kept the right of patronage of the convent for herself and her heirs. Santa Clara, where Dormer was interred alongside other members of the Feria family, was about legacy as well as piety: not just 'household stuff which descended from the duke' but a statement of patronage, including the provision of poor relief, funding the nuns who prayed for the family, and establishing the Ferias as regional leaders.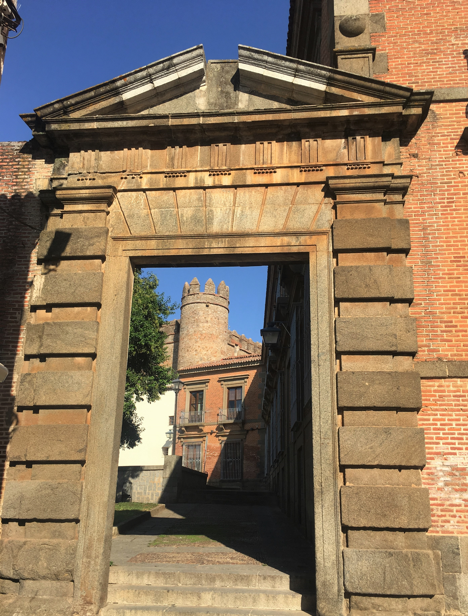 As the objects in this #gateofaccess series indicate, Dormer and Harrington displayed tastes that were influenced by the Spanish Counter-Reformation, from the churches' structures and decor to the nature of the personal reliquaries they collected and displayed. Although observers praised Dormer for her decorum and her sombre demeanour, the influence and cosmopolitanism of the courtly elite is also evidence in surviving objects from the Feria household: the painted gold posts of her bed, large gold altarpieces and marble tombs, and a crystal vessel contained within a carved box made from a coconut. Although little is known about the box, records in Zafra's municipal archives are a testimony to the vibrancy of Zafra as a market town with global links to Africa and the Americas. Although this project never found fruition, Jane considered Zafra to be a suitable location for establishing a Jesuit college, perhaps because of its international importance in providing a prominent meeting place for the region's wealthy Spanish and Portuguese merchants. As a lively centre of commerce, the archives contain accounts of merchants returning from Atlantic voyages with cargo. Records include references to esclavos, or 'blackamoor' slaves in the households of merchants.
Dormer and Harrington's projects shed light on devout counter-Reformation women who operated within and beyond religious spaces, from households to town squares and building sites. Using their wealth to engender change and advance Catholicism, these women secured the release of English Catholic prisoners and sold art to raise funds for armies. After her death, Dormer's secretary Henry Clifford, to whom she bequeathed her death's head rosary, wrote to Sir Robert Dormer in England. 'You would say she were not only the great honour of her house', Clifford wrote, 'but the glory of her country.' Clifford praised Dormer for aligning her personal sense of vocation to her commitment to Catholicism in traditional, almost hagiographical terms. Which was 'her country' is a little less clear.
Lauren Working
Follow our Gate of Access on Twitter @ERC_TIDE, #gateofaccess