Barbarous
The 'barbarous', the foreign, and the civil were often articulated in relation to each other. The term related to anxieties over conformity, both in imposing it on others and defending one's own identity in a moment of unprecedented expansion and exchange with other cultures and peoples. Cosmographies and travel narratives luridly recounted the 'barbarous customes' of 'uncivil' inhabitants in the British Isles as well as Asia and America, set against the manners, language, and political affiliations of 'civil' Europe.[1] The Greek word barbaros, and the Latin barbarus, meant 'not Greek' or 'not Latin', juxtaposed against the classical or 'pure'.[2] 'Barbarous' therefore pitted the unpolished or the vulgar against the assumed advanced customs of those who used the term. 'Thou art a Romane', Marcus says to his brother Titus in Shakespeare's Titus Andronicus (1594): 'be not barbarous'.[3]
Marcus' words exhibited the belief, prevalent in early modern England, that human behaviour could be affected by social pressures and notions of civility. Like 'uncivil', 'barbarous' became widely used in sixteenth and seventeenth-century England to describe socially disreputable or indecorous behaviour. The practice of politics, and political access, depended on strict social codes and notions of personal honour, and letters to the monarch, the privy council, local mayors and justices of peace are peppered with complaints about the 'barbarous' treatment of individuals in prisons, courts, or abroad. Defending himself against accusations of siding with pro-Spanish factions, the English Catholic Sir Christoph Perkins complained that his detractors 'be so uncivill, that by theyr unskillfull fansye they will fall into rude discortesye ... [and should be] co[n]demned as barbarous blockheades, then to be esteemed as Civil Gentlemen'.[4] Seeking release from the Fleet prison in 1603, Henry Carew complained that drunk prisoners had 'wounded me & abused me most basely, a matter unknown unto yo[u]r honours & yeat not[h]inge more com[m]on then this & such lyke barbarus cruelties to men of good sort & worth'.[5] In these cases, 'barbarous' gained salience in attempts to discredit the honour and standing of one's opponents, who showed little reverence for established social hierarchies.
'Barbarous' was also related to literary anxieties about the English language at a period of rapid linguistic development. The humanist reverence for the classical past in sixteenth-century England led to a sensitivity about the English language as 'barbarous' or inferior. 'The foulest vice in language is to speake barbarously', the author George Puttenham wrote. '[T]his terme grew by the great pride of the Greekes and Latines, when they were dominatours of the world reckoning no language so sweete and civill as their owne'.[6] '[B]arbarous conquerors invading [ancient Europe] with innumerable swarmes of strange nations, the Poesie metricall of the Grecians and Latines came to be much corrupted and altered'.[7] Aware of the quirks and eccentricities of the English vernacular, which at times stood at odds with classical rhetorical theory, English translators and writers began to champion the literary value of their language, especially from the 1570s.[8] George Pettie defended the English language in his translation of Stefano Guazzo's The civile conversation (1581) in a way that exposed his pride in English, and demonstrated an awareness of its questionable status among other European languages. 'There are some others yet who wyll set lyght by my labours, because I wrote in Englysh', Pettie wrote. Some English travellers, hungry for French, Italian, or Spanish, will 'count it barren, they count it barbarous ... they report abrode, that our Countrey is barbarous'.[9] Nonetheless, Pettie staunchly defended his decision to write in English, for the virtue of a language was always relative: 'the maners and fashions of eche Countrey, are thy only thyng that make it counted barbarous or civile'.[10]
While English writers sought to defend the vernacular from accusations of its inferiority to Latin or other continental languages, they nonetheless did so by juxtaposing it against regional dialects, or the languages of local inhabitants in colonized territories. The rising appreciation for the English language in the sixteenth and seventeenth centuries also accompanied derision among the English for the 'babbling' Gaelic or Native American dialects. Puttenham therefore noted that the least developed language was 'spoken by the rude and barking language of the Affricans now called Barbarians'.[11] '[T]he most laudable languages', Puttenham reminded his reader, 'are alwaies most plaine and distinct, and the barbarous most confuse and indistinct'.[12]
Politically, 'barbarous' came to be closely connected to pride and tyranny, particularly regarding Spain, Russia, and the empires of the Ottomans and Persians. The Elizabethan John Jewel, defending the Church of England against charges of heresy, described Catholicism as inseparable from 'the tyranny of the Byshops of Rome and their barbarous Persian-like pride'.[13] It was in his translation of a Swiss reformed text on tyranny that the physician Thomas Twyne brought up the 'wantonesse, pride and disdayne [of] the barbarous Turkes', whose 'barbarous' natures led to their despotism.[14] English writers often invoked the vast Catholic Spanish empire of the Atlantic, and the Spanish conquest of South America, to highlight the corruption of 'false' faith and its ravenous ambitions. The 'barbarous tyranny of wasting the west Indies' became part of how the pope ushered the 'kingdome of the antichrist', which would bring bondage rather than redemption.[15] Russia, difficult to categorise geographically as it belonged neither to western Europe nor the east, provided further examples of tyranny. Giles Fletcher, sent as ambassador to Moscow in 1588 to secure privileges for English merchants, described the Tartars, living on the 'frontiers', as occupying a 'barbarous condition', being strong horsemen but 'knowing no artes of peace, nor any civil practise'.[16] The most 'rude & barbarous' were the 'Mordwit Tartars', Giles commented, who carried the flayed skin of their deceased friend's horses to their burials.[17]The corruption of the tsar, Ivan the Terrible, found a parallel in the tyranny of Russian household, where, Giles maintained, men treated their wives with excessive harshness. 'In living with their wives', Fletcher recounted, Russian men 'shewe themselves to be of a barbarous condition: using them as servants' and prohibiting them from speaking freely, even during joyous occasions like weddings.[18]
While 'barbarous' often applied to language and tyrannous or corrupted polities, the English also used 'barbarous' to describe lingering systems that they considered illegitimate through the process of colonization and state formation. Policy-makers frequently condemned the manners of those dwelling on 'frontier' territories within the British Isles, including the Scottish highlands and Gaelic Ireland. George Turberville, who had travelled to the court of Ivan the Terrible in 1568, recognised that barbarity could be found closer to home. 'Wilde Irish are as civill as the Russies in their kinde/ Hard choice which is the best of both, e[a]ch bloody, rude, and blinde./ If thou bee wise ... covet not those barbarous coasts to see'.[19] If 'the unconstant humours and ill dispositions of these barbarous and perverse Rebels' did not abate', wrote Sir John Norris to Elizabeth from Ireland in 1596, stronger measures would need to be implemented to 'deal wyth a subtle and Mallitious Generation'.[20] In 1602, the lord deputy of Ireland Charles Blount, Lord Mountjoy complained that the Gaelic Irish refused to cease wearing local styles of dress, including mantles. They did so not for lack of other options, but because 'the barbarous Customes in habits of apparell in their poets or herauldes' served to 'inchant' them 'in savage manners and sundry other such dregges of barbarism and Rebellion … already forbidden'.[21] Such 'barbarous Customes' made a connection between local language and styles of dress, where the appearance of heralds in Gaelic households, sharing stories and news in the Gaelic tongue, were presented by English colonists as perpetuating 'dregs of barbarism' that clashed with the Protestant civility of the English state. This harked back to humanist concerns over the corruption of language, and to clothing as embodying the visual manifestation of inward disloyalty. To the English, Ireland provided an unsettling mix of the familiar and the foreign, the present and the past, where longstanding concerns about 'barbarous' degeneration was not an abstract fear but an urgent political problem. 'Barbarous' thus signified a corruption of what was pure, simple, and therefore 'truer' and more virtuous; but its range of uses and contexts pointed to its inconsistencies and relativism, where a 'barbarous' individual could be a drunk English prisoner just as much as a Tartar, depending on subjective experience.
John Derrick,
The Image of Irelande
(1581), woodcut of Irish war-pipers
[22]
Endnotes
1. Fynes Moryson, An itinerary (London, 1617; STC 18205); Peter Heylyn, Cosmographie in four bookes (London, 1652; Wing H1689); Richard Blome, The present state of His Majesties isles and territories in America (London, 1687; Wing B3215).
2. 'barbarous, adj.', Oxford English Dictionary [accessed 13 May 2017].
3. Quoted in ibid.
4. 'Dr. Ch[ristopher] Parkins to Sir Robert Cecil, 20 November 1593', Hatfield House, CP 24/16r.
5. 'Henry Carew to Robert Cecil, 24 July 1603', Hatfield House, CP 101/90r.
6. George Puttenham, The arte of English poesie (London, 1589; STC 20519.5), sig. Ee3r.
7. Ibid., sig. C4v.
8. Catherine Nicholson, Uncommon Tongues: Eloquence and Eccentricity in the English Renaissance (Philadelphia, PA: University of Pennsylvania Press, 2014), p. 6.
9. George Pettie, The civile conversation of M. Steeven Guazzo written in Italian, and now translated (London, 1581; STC 12422), sigs. iir-v.
10. Ibid.
11. Quoted in Ian Smith, 'Barbarian Errors: Performing Race in Early Modern England', Shakespeare Quarterly, 49 (1998), 168-86 (p. 172).
12. Puttenham, The arte of English poesie, sig. Lr.
13. John Jewel, An apologie or answere in defence of the Churche of England (London, 1564; STC 14591), sig. Iir.
14. Henrich Bullinger, The tragedies of tyrantes (London, 1575; STC 4087), p. 87.
15. Gabriel Powel, A consideration of the papists of state and religion (Oxford, 1604; STC 20144), sig. L2r.
16. Giles Fletcher, Of the Russe common wealth (London, 1591; STC 11056), sig. K3v.
17. Ibid., sig. L2r.
18. Ibid., sig. O6v.
19. George Turberville, 'To Parker', in Richard Hakluyt, The principal navigations (Oxford, 1599—1600; STC 12626a), sig. Kk3r.
20. 'Sir John Norris to the Queen, 27 July 1596', Hatfield House, CP 42/100r.
21. 'Suggestions by Lord Mountjoy for the Government of Ireland, 1602', Hatfield House, CP 139/138r.
22. John Derrick, The Image of Irelande (1581)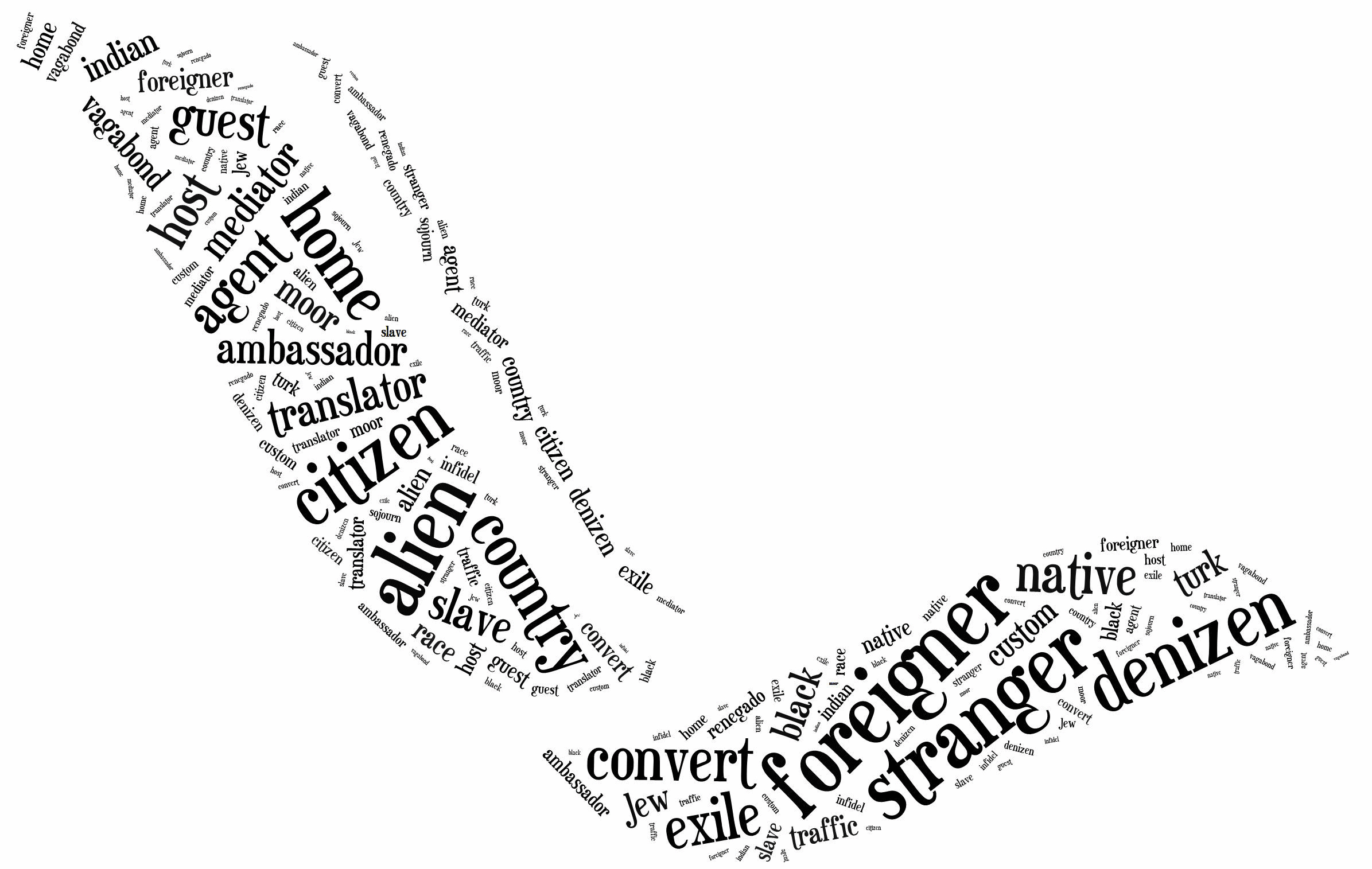 Usage Examples
'The foulest vice in language is to speake barbarously'