To the TIDE Blog...
Apr 3 2017
Rubens and the Andes
On 20 March, TIDE organized its first seminar of 2017 on the theme of 'Catholic Transculturality in Early Modern Europe' with Jane Stevenson (King's College, University of Aberdeen) and Peter Davidson (Campion Hall, University of Oxford). 'The Royal Nun: religion and exile', the paper presented by Jane Stevenson, examined an oratorio performed and probably written in St Monica's, an English Augustinian convent in Louvain. Peter Davidson's paper, 'Cultural bilinguality in baroque America?', explored the connections between the European baroque and the Mexican and Andean visual imagery. The following text and images are an excerpt of Peter Davidson's paper that show us how the dialogue between the visual imagery of Europe and America created hybrid works of art that could be read in two visual languages simultaneously.
These four images raise a fascinating possibility, that Peter Paul Rubens had seen the culturally-hybrid Andean image originating from what is now Bolivia known as The Virgin of the Cerro Rico of Potosí. Rubens certainly changed his design between his first sketch and the final version to alter the outline of the mountain and to add the sun and the moon on the columns. The more the two images are contemplated, the more the possibility of influence from America to Europe seems worth considering. Certainly, Rubens was working for the Antwerp Jesuits at this time in his life, and Jesuits from the Flemish province had taken part in the missions in South America. Further food for thought is offered by the presence in the carving of the marble altar-rails (dated 1653) of the Antwerp Jesuit church of the grain plants of the Americas: maize, quinoa and amaranth, an iconography remarkable in its implications of dialogue and cultural inclusion.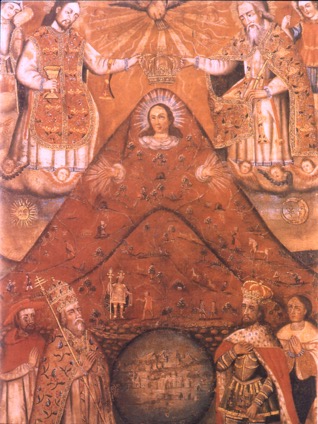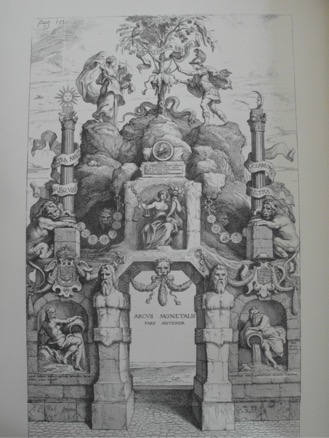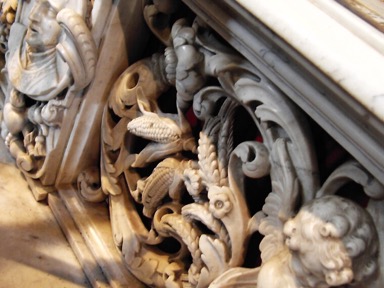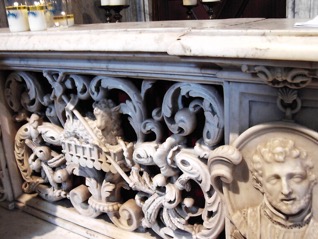 Peter Davidson