To News and Events...
Jun 16 2019
The Merits of Civility: Nish Kumar, Priyamvada Gopal and Hussein Kesvani in conversation with Nikesh Shukla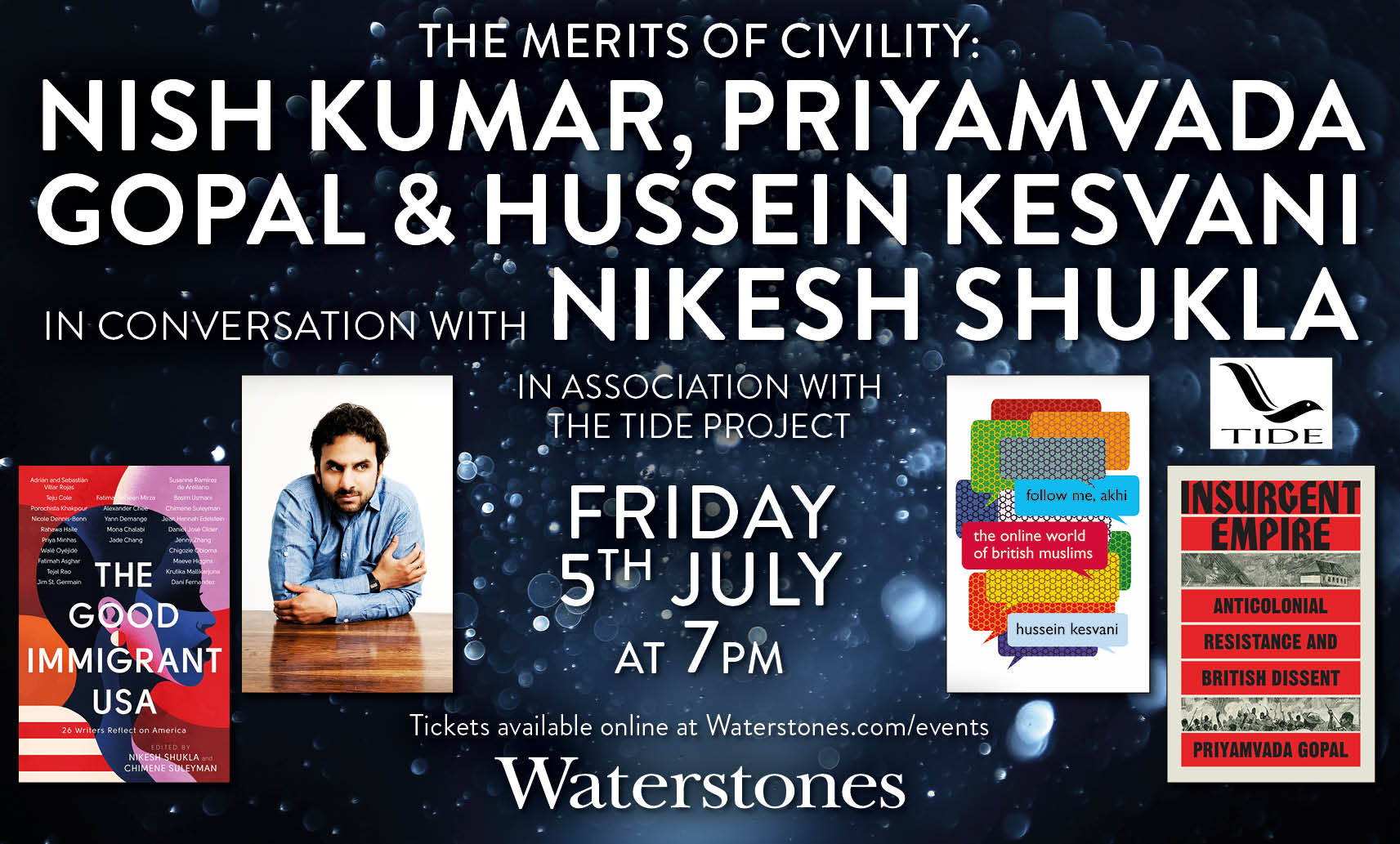 What place does "civilised debate" have in today's political climate?
Do ideas of civility hark back to colonial ideas of "civilising savages"?
TIDE visiting writer Nikesh Shukla joins Nish Kumar, Priyamvada Gopal, and Hussein Kesvani in Waterstones Piccadilly for a discussion on the merits of civilised debates, and whether absolutes can ever lead to nuanced conversation.
Nish Kumar is a critically-acclaimed comedian. He is the host of The Mash Report on BBC Two, co-host of The Bugle podcast and the Netflix series Joel & Nish Vs The World, and makes regular appearances on panel shows including Have I Got News For You, Mock The Week, and QI.
Priyamvada Gopal is University Reader in Anglophone and Related Literatures in the Faculty of English at the University of Cambridge and Fellow Churchill College. She is the author of Literary Radicalism in India and The Indian English Novel. Her latest work Insurgent Empire: Anticolonial Resistance and British Dissent upsets received views to show how rebellious colonies changed British attitudes to empire.
Hussein Kesvani is a journalist, editor and producer. He is the Europe editor of MEL Magazine, and has written for BuzzFeed, Vice, The Guardian, the New Statesman and The Spectator. He is the author of Follow Me, Akhi: The Online World of British Muslims, a rich exploration of the world of memes and influencers, Muslim dating apps, and alt-right Islamophobes that considers how a new generation of young Muslims growing up with the internet are using social media to determine their religious identity on their own terms.
Nikesh Shukla is a social commentator, critically-acclaimed author, and ERC-TIDE's visiting writer for 2018-19. He novels include Coconut Unlimited, which was shortlisted for the Costa First Novel Award 2010, Meatspace, The One Who Wrote Destiny, and Run, Riot. He edited The Good Immigrant, co-edited The Good Immigrant USA, and continues to edit The Good Journal. In 2017, he co-founded The Good Literary Agency to increase opportunities for under-represented writers.
Please join the TIDE team for what promises to be a fantastic evening of discussion. For more information download poster here.
Tickets available here.