To the TIDE Blog...
Aug 27 2021
TIDEfest: Fragments, Speaking Trees, and 'Digital Debris'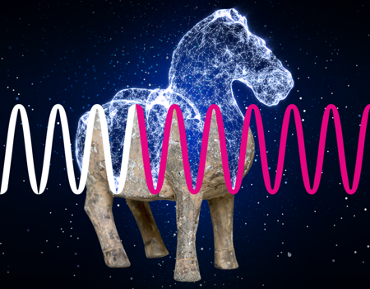 On the weekend of 31 July and 1 August 2021, following its 'On Belonging' conference, TIDE held a free online cultural festival. Through seven events, TIDEfest showcased the project's five-year engagement with creative practitioners, bringing together all of TIDE's visiting writers and a range of other authors, educators, and artists.
TIDEfest began with 'Teaching Migration, Empire, and Belonging in Schools' with writer Nikesh Shukla, historian Kate Williams, and teachers and researchers, Wendy Lennon and Hannah Cusworth. In the afternoon, Preti Taneja discussed her award-winning novel, We That Are Young, and shared the writing she had produced for the interactive multimedia collaboration, TIDE Salon. Written from the future, Preti's 'fragments' powerfully layer places and time, where the era of social media and digital fragments share space with Sappho and dark matter, Montaigne and a new millennium. An archive, Preti reminds us, 'is whatever falls into an envelope'. 'Giving Voice Part 1' was a creative writing workshop led by the award-winning poets Sarah Howe and Fred D'Aguiar, where participants were guided through a series of writing exercises that drew on objects, from a carved ivory salt cellar to Chinese porcelain, introduced by curators from the London National Portrait Gallery, Pitt Rivers Museum, World Museum, and Oxford Herbaria. The day concluded with Nikesh Shukla in conversation with the authors Yashica Dutt and Tanaïs, who discussed writing memoir, generational trauma, and 'bringing truth to the page'. Throughout the day, there were multiple discussions about the destruction of archives, from Windrush records to Hindu temples, and about the responsibility scholars have to recover the fragments of the past. Writers also expressed the importance of making visible these processes of recuperation and to acknowledge the biases and 'curatorial silences' that might arise. This echoed Ladan Niayesh's evocative reference in her paper for the 'On Belonging' conference a few days before: as with the rebuilding of Paris' Notre Dame Cathedral after the 2019 fires, historians looking at the materials of the past must continually ask themselves what aspects of history to interpret, restore, make visible, and preserve.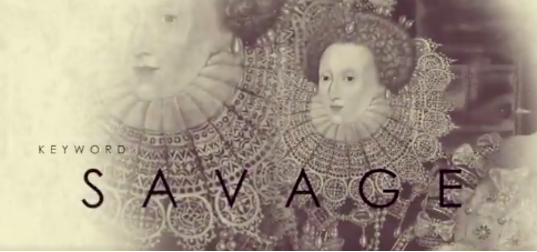 The second day of TIDEfest began with 'Globes, Networks, & the Early Modern World', an event featuring TIDE postdoctoral researchers Lauren Working and Emily Stevenson and the artist Loraine Rutt. The three discussed their forthcoming collaborative exhibition, 'From the Middle Temple to Manoa', organised with Middle Temple librarian Renae Satterley and forthcoming at Middle Temple Library in London in autumn 2021. Their discussion moved from early modern travel and contemporary globemaking to digital social network analysis, examining ways of bringing these different areas of exploration into conversation and effective collaboration. This event was followed by a reading by TIDE's current visiting writer Elif Shafak from her new book, The Island of Missing Trees, and a conversation between Elif and Nandini Das about family memory, democratic rights, and how a book that adopts the perspective of a tree can invite us to step outside of our human perspectives. TIDEfest concluded with 'Giving Voice Part 2' with poets Sarah Howe, Fred D'Aguiar, and Sandeep Parmar. This final event saw the premiere of two film poems based on Fred and Sarah's TIDE-commissioned poetry, and featured a discussion of the many poems submitted online as part of Sarah and Fred's workshop the day before (you can read some of these on Twitter by following the hashtag #SpeakingObjects). 'Giving Voice' also unveiled a poem jointly written by Fred and Sarah as their own response to the workshop prompts. Fred, Sarah, and Sandeep spoke powerfully about the urgency of dialogue, excavation, and the need for writers and academics to work together to make sense of the present as well as the past. In the words of Fred D'Aguiar: 'history is a scary place. I'm not going in there alone'. Celebrating collaboration and collective effort, it was the perfect way to bring TIDEfest, and the preceding 'On Belonging' conference, to a close, with a reminder that belonging and identity are rarely singular concepts; they exist as layers and intersections moving across borders, meaning different things in different places.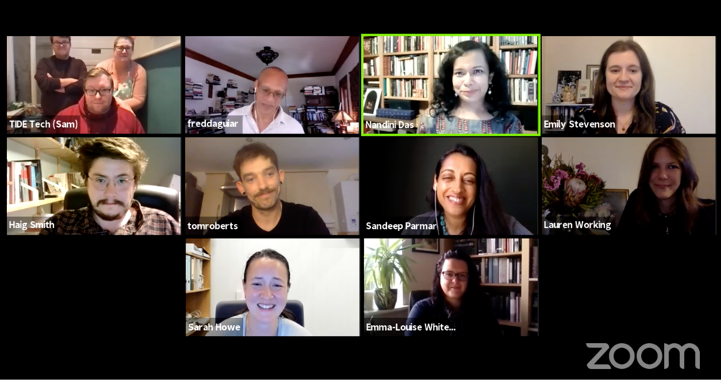 A goodbye from TIDEfest.
Lauren Working and Emily Stevenson