To News and Events...
Aug 7 2021
Congratulations to our very own Dr Lauren Working on co-winning the RHS Whitfield Prize 2021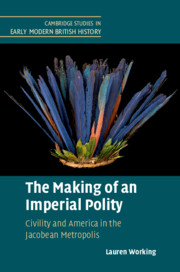 It is with great pleasure that we announce that our very own Dr Lauren Working has been awarded the Whitfield Prize for 2021 for her excellent first monograph,
The making of an imperial polity civility and America in the Jacobean metropolis
. She shares the prize with Dr Jackson Armstrong for his book,
England's Northern Frontier
. The Whitfield Book Prize has become one of the most sought after book prizes for early career historians. It was established by the Royal Historical Society in 1976 at the bequest of Professor Archibald Stenton Whitfield, who was a Fellow of the Society from June 1916 until his death in 1974. The judges cited that '
This masterful study of Jacobean political culture significantly shifts our understanding of its imperial nature. Lauren Working weaves together material history, political thought, and historical anthropology to show that settler colonialism was central to the self-understanding of Jacobean political actors. She deftly unpicks the connections between settler plantation and domestic estate management, and shows how metaphors of cannibalism were used to equate Catholics with Native Americans, while legitimating and masking the violence of the colonial project itself.
By placing America at the heart of the Jacobean polity, rather than on its periphery, Working reveals that the idea of English civility was expansionist and imperial from the outset. Elegantly written and compellingly argued, her book makes a major contribution to the field.' Dr Working's 'masterful study' is available open access
here