To News and Events...
Jun 16 2021
Register for 'On Belonging 2'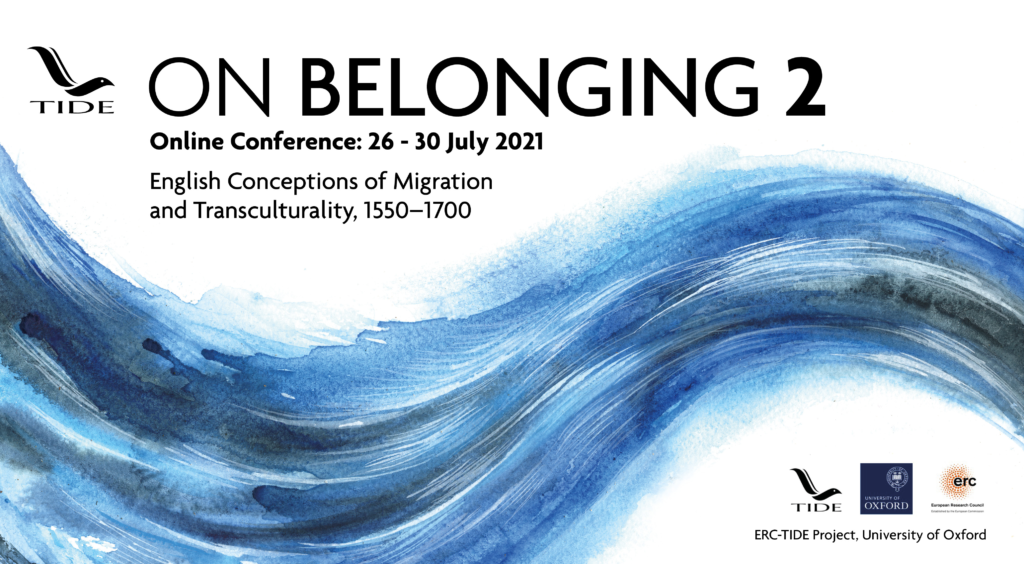 We are delighted to announce that registration is now open for TIDE's online summer conference, 'On Belonging 2: English Conceptions of Migration and Belonging, 1550-1700' (27-30 July 2021). Join us as we explore questions of identity, migration, and belonging in the early modern period through a range of panels, discussions, roundtables, lightning talks, and creative sessions. For more information, including conference proceedings and the TIDE Equality, Diversity, and Inclusivity statement, click here.
Registration is open until Friday 16 July through Eventbrite: just click here and input your details as requested. While the conference is free to attend, we do encourage those in permanent, full-time employment to donate to the Society of Renaissance Studies. The SRS supports scholarly activity at all stages by providing annual postdoctoral fellowships, conference support, public engagement awards, doctoral scholarships and support for students at MA level. For more information and to donate, please click here.
We look forward to seeing you all at 'On Belonging 2', and hope that you will also join us the following weekend for TIDE-fest (31 July- 1 August). This 2-day literary festival will feature a range of events, including Q&As, writing workshops, and discussions with authors and creatives, including TIDE Visiting Writers Fred d'Aguiar, Sarah Howe, Nikesh Shukla, Preti Taneja, and Elif Shafak. More information and instructions on how to register for events will be available on the TIDE website in due course.