To News and Events...
Jul 7 2021
Announcing TIDEfest, 31 July – 1 August 2021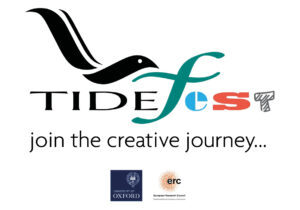 Following our 'On Belonging' conference, the TIDE project (Travel, Transculturality and Identity in England, 1550–1700) is delighted to announce
TIDEfest
, a free online literary festival to be held the weekend of 31 July & 1 August.
TIDEfest
will bring together all five of the project's visiting writers, as well as a number of scholars, teachers, and artists. Over the course of the weekend, the festival will feature a virtual programme of events including a book reading with Elif Shafak and a discussion on globes and world-making with the artist Loraine Rutt. The festival will include a creative writing workshop led by the poets Sarah Howe and Fred D'Aguiar, featuring a selection of historical objects introduced by the curators of four national museums.
TIDEfest
is a celebration of the project's 5-year engagement with creative practitioners since its inception in 2016, and will bring together people invested and interested in teaching, migration, curation, and collaboration. You can register for events through Eventbrite
here
, and the full programme is below. The festival is completely free and welcome to all. For any queries, please contact the TIDE project on Twitter (@ERC_TIDE), or by email (tide@ell.ox.ac.uk), and follow the festival on Twitter with
#OnBelonging
and
#TideFest
!
Saturday 31 July 2021  
11:00–12:30   Teaching Migration, Empire and Belonging in Schools
14:00–15:30   Preti Taneja in Conversation with Nandini Das
17:00–18:30   Giving Voice with Sarah Howe and Fred D'Aguiar, Part 1
19:30–21:00   The Stories We Tell with Nikesh Shukla, Yashica Dutt & Tanaïs
Sunday 1 August 2021
14:00–15:30  Globes, Networks, & the Early Modern World
17:00–18:30  Elif Shafak in Conversation with Nandini Das
19:30–21:00  Giving Voice with Sarah Howe and Fred D'Aguiar, Part 2