To News and Events...
Mar 28 2018
Teaching Migration at KS3: Workshop and Focus Group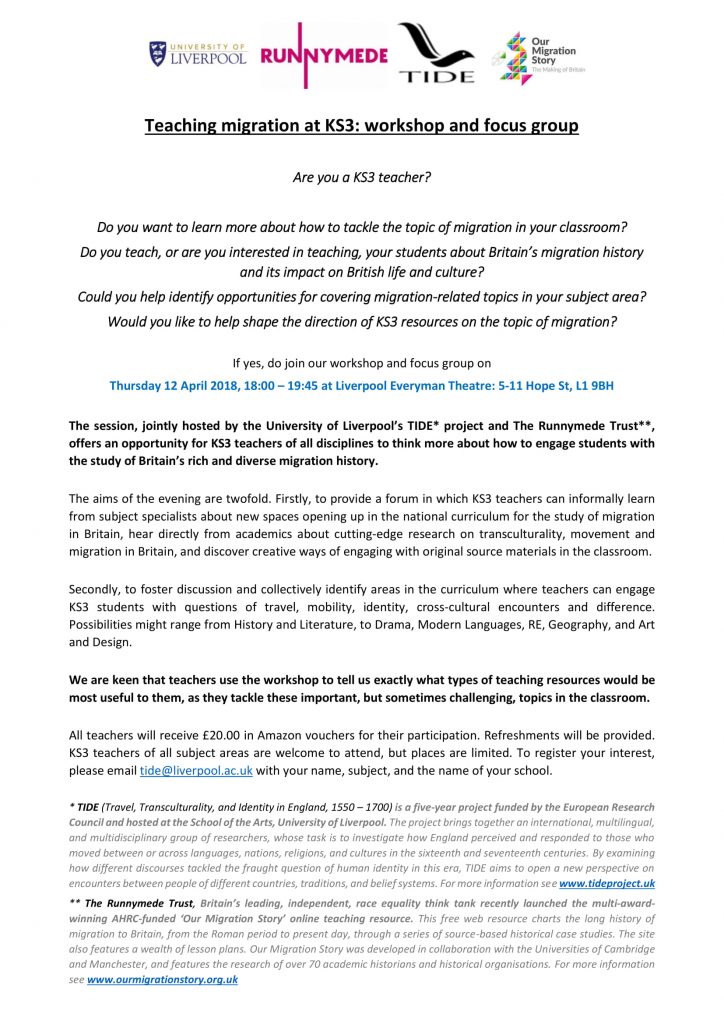 Thursday April 12, 18:00-19:45, Everyman Theatre - Liverpool
This workshop, jointly hosted by the University of Liverpool's
TIDE project
and the
Runnymede Trust
, offers an opportunity for KS3 teachers of all disciplines to think more about how to engage students with the study of Britain's rich and diverse migration history.
The 'Travel, Tranculturality and Identity in Early Modern England, c. 1550-1700' (TIDE) 
project
, an interdisciplinary, ERC-funded project at the University of Liverpool's School of the Arts, considers questions of cultural assimilation and social cohesion, recurring themes in public and academic discourse as we face a seemingly unprecedented movement of peoples across the globe. 
The Runnymede Trust
is the UK's leading independent think tank on race equality and race relations. The Trust has extensive experience in working with schools and examination boards on related issues, with highly commended HEI partnerships working within the area of migration.
The aims of this workshop are twofold:
- to provide a forum in which KS3 teachers can informally learn from subject specialists about new spaces opening up in the national curriculum for the study of migration in Britain; to hear directly from academics about cutting-edge research on transculturality, movement and migration in Britain; and to discover creative ways of engaging with original source materials in the classroom.
- to foster discussion and collectively identify areas in the curriculum where teachers can engage KS3 students with questions of travel, mobility, identity, cross-cultural encounters and difference. Possibilities might range from History and Literature, to Drama, Modern Languages, RE, Geography, and Art and Design.
From these discussions, we will develop school resources on early modern migration and belonging across multiple areas for the new GCSE modules on migration. As such, we are keen that teachers use this opportunity to tell us exactly what types of material would be most useful to them as they tackle these important but sometimes challenging, topics in the classroom.
All teachers will receive £20.00 in Amazon vouchers for their participation. Refreshments will be provided.
KS3 teachers of all subject areas are welcome to attend, but places are limited.
To register your interest, please email tide@liverpool.ac.uk with your name, subject, and institution
.