May 27 2021
Che portasti tu d'Italia? (What did you bring from Italy?)
Io ne portai a fatica la vita (Barely I brought my life)
Michelangelo Florio's (1518-1566) biography as an Italian religious refugee in London transpires in this short dialogue in his manuscript grammar Regole de la Lingua Thoscana (Rules of the Tuscan language) dedicated to his young aristocratic student Henry Herbert (c.1538- 1601) in August 1553.
Around a year before, the Florentine Florio interrupted his public role in the Italian Church in London after economic and doctrinal contrasts with other Italians, and an accusation of sexual abuse. Thanks to the interest of powerful figures (the Archbishop Thomas Cranmer, the King's Secretary William Cecil, and the Lord Protector of England John Dudley,) Florio became private tutor of Henry Herbert and his sister-in-law Jane Grey. In fact, another undated version of the grammar was dedicated to Jane Grey who became queen for few days (10th - 9th July 1553), just one month before Florio's dedication to Herbert.
Florio's grammar was an advanced and less schematic alternative to William Thomas's Principal Rules of Italian Grammar (1550), the first printed Italian grammar for English speakers. The Florentine praised Guilielmo Thomas' grammar, but in his opinion, he proposed a better version thanks to more precise and extended explanations, especially in regard of the adverbs. However, the Italian could not publish his grammar in London. As the new Queen, Mary I, ordered the execution of Jane and the banishment of protestants in England, Florio had to flee once again in March 1554, starting a new life in Soglio, in the Swiss Grisons.
In his Regole, Florio included Italian exemplary sentences provided of Latin translations for maggiore chiarezza (better clarity) following each explanation of grammatical rules regarding articles, nouns, verbs, adverb, and other parts of speech). Most of these sentences tell us between the lines that the author was a religious refugee and anti-papist, i.e. a new kind of immigrant compared with the Italian merchants and bankers that had traditionally operated in England since the thirteenth century CE.
Indeed, Florio did not send clothes to Italy and bring wine back as did the merchant protagonist of few examples in part xvii of the grammar. In fact, Florio's dramatic story appears in the subsequent example where a person brought his life from Italy instead of goods. Here he alluded to the twenty-seven months that he spent imprisoned and tortured in Rome, and the other persecutions encountered, due to his preaching of reformist doctrines in several Italian cities such as Rome, Naples, Padua, and Venice in the 1540s. Finally, Florio fled Italy reaching England on 1st November 1550 and taking on Bernardo Ochino's position as minister of the Reformed Italian Church in London. Ochino was a celebre reformist preacher who had, since 1547, consolidated a corridor to the country of the protestant king Edward VI for Italians escaping religious persecutions.
Numerous sentences show Florio's attempts to suggest an assimilation between his situation of unjustly persecuted individual to the one of the Church of England. For example: Quando fui tenuto in pregio dal Papa, non ero amato da Dio. Hora che dal Papa sono perseguitato, son' certo che da Dio sarò tuttavia difeso (When I was appreciated by the Pope, God did not love me. Now that I am persecuted by the Pope, I am sure that God will defend me in any case). These models created to explain grammatical points (e.g. passive sentences and past participles in the previous sentences) offered Florio chances for fashioning himself to enter the grace of his new powerful anti-Catholic English protectors i.e the Greys, the Herberts, William Cecil Lord Burghley, and John Dudley Duke of Northumberland.
Moreover, Florio believed that language students and Christians both needed to find truth for themselves in their reading; even against authorities as it emerged in the sentence La dottrina del Vangelo piace à ognuno in fuori che al papa (Anyone likes the doctrine of the gospel but the Pope). So, often facing the impossibility of giving a regola ferma (firm rule) the personal preferences and explanations of grammarians, such as Florio himself or Pietro Bembo, could be ignored if more convenient for the language learning process. Ultimately the students had to find their way reading the authors: [...] qui potrei confermar' quanto v'ho detto con l'autorità di Dante, del Boccaccio, e del Petrarca; ma sarei troppo lungo; leggendogli voi troverete la verità. (Here I could confirm what I said with the authority of Dante, Boccaccio and Petrarch. But I would be too verbose. Reading them you will find the truth).
Florio described himself as a povero forestiero (poor stranger) in the dedication to Herbert, but at the same time signalled in the entire grammar that he was not a 'spiritual stranger' in England. Also, his grammar shows how his religious beliefs, and the practicality acquired teaching Italian language to foreigners, shaped his vision of the wide theoretical discussion on Italian codification (la questione della lingua). This discussion stimulated, during the same years, the valorisation of English language, in a nationalist and religious key, by Italianate and reformist authors such as William Thomas and Thomas Hoby.
Michele Piscitelli
University of Birmingham
Mxp792@student.bham.ac.uk
Linkedin: https://www.linkedin.com/in/michele-piscitelli-b7005375/
Midlands4cities Doctoral Training Partnership: https://www.midlands4cities.ac.uk/student_profile/michele-piscitelli/
Biography
Michele Piscitelli is a Ph.D. candidate at University of Birmingham, with a thesis on the presence, teaching and learning of the Italian language in sixteenth century England; in particular the project aims to certain gaps in the literature focusing on the pre-Elizabethan period and alternative sources for language learning beyond Italian-English manuals and vocabularies.
May 13 2021
Between 1671 and 1677 John Covel, an Anglican cleric and fellow at Christ's College, Cambridge, served as chaplain to the English embassy to the court of the Ottoman Empire. During this time, Covel travelled across large parts of Thrace and Asia Minor, before returning to England via much of Greece, Italy and France. Over the course of his travels, Covel devoted a considerable amount of time and energy to studying the Greek Church. This is hardly surprising, given that many Anglicans in this period regarded Greek Christians – because of their geography and history – as witnesses to ancient Christian tradition, who might be relied upon to clarify contentious points of doctrine between – and among – Catholics and Protestants. Covel certainly harnessed his engagement with the Greek Church in this way, using his experiences of Greek worship to intervene in a contemporary dispute among English divines over the use of the sign of the cross, particularly in baptism, where it was commonly performed over the forehead of the baptised.
In the second half of the seventeenth century, English Protestants were divided over whether the sign of the cross was a fundamental Christian behaviour, or simply a superstitious rite which had developed out of the Roman corruption of the faith in the Middle Ages. For the Presbyterian minister Richard Baxter (1615-91), the sign of the cross was 'a (transient) Image, used as a means of Worship', and 'Therefore unlawful by the Second Commandment.'[1] Covel was of a completely different mind, however, owing partly to his encounter with the Greek Church in the Ottoman Empire, which had taught him the value of the practice.[2] In his correspondence, Covel related a story about 'a poor Greek' sentenced to death by the Ottoman authorities, whom he watched during his trial and execution, noting that:
when either he could not speak, through weaknesse of body or anguish of mind or else could not be heard amongst the thronging multitude, he in a manner continually made the sign of the crosse upon his breast, to signify to the world by this dumb Rhetorick his undaunted resolution of being and dying a true Christian. I confesse it made me wth great pleasure reflect upon that antient Rite used by our church in Baptisme, I mean ye sign of the Crosse.
Covel's description here of the sign of the cross as 'that antient Rite used by our Church in Baptisme' was significant in and of itself, for it pre-empted the common criticism that it was merely a Medieval Catholic invention, without precedent in the early Church. In any case, Covel conceded that the sign of the cross 'may seem a very uselesse and empty ceremony', whether in baptism or among adult Christians, 'to men that never lived abroad amongst unbelievers, nor considered the state of the primitive Church by which this practice prevayled'. Yet of course Covel, unlike most of his compatriots and colleagues, had 'lived abroad amongst unbelievers', where he had witnessed the persecution of Christians at the hands of the non-Christian Ottomans, which provided him with a different perspective on the sign of the cross. For under these circumstances, Covel had found the practice very useful, for it signified 'throughout the whole world, where no other language is understood, that the person so signed is own'd, or owns himself to be a member of Christ's body.' By way of illustration, Covel informed the recipient of his letter that in Ottoman territories, the sign was commonly used by local Christians to 'begge your charity, when all language is insignificant'. Covel also recalled using the sign himself, when he had travelled 'in Turkish habit [or dress]', in order to reassure frightened local Christians that he was of their faith, and thereby ensure that he was 'immediately admitted and kindly treated' by them.
Covel had therefore seen what it must have been like for those early generations of 'primitive' Christians, surrounded by 'unbelievers' and subjected to frequent bouts of persecution. Although English Christians no longer faced such challenges, the sign of the cross, even if used only in baptism, remained a potent symbol of Christian solidarity, of one's resolution to 'maintein the inward and spirituall fight against sin and the Devil', and a crucial reminder that Christians, wherever they found themselves, 'should not be ashamed publickly, even by this outward sign, to confesse to ye world and all the powers' their faith in Jesus Christ. In Covel's view, the sign of the cross was part of the 'universal Character of a Christian, which was wisely introduced by our forefathers and ought still to be used', particularly in baptism.
Thus Covel believed that his direct experience of a Church persecuted by non-Christians gave him unique insight, noting, as we have seen, that the sign of the cross only appeared useless to those 'that never lived abroad amongst unbelievers'. In using the Greek Church to defend the practice, Covel distinguished himself from several of his Anglican colleagues, who championed the sign of the cross using the writings of theologians from the early Church. In so doing, Covel suggested that overseas travel, and exposure to religious diversity specifically, equipped one with a better sense of right belief and devotion, particularly when it came to contested issues such as the sign of the cross. Indeed, Covel's defence of the sign of the cross vis-à-vis the Greek Church testifies to the role of early modern travel, and of transcultural exposure, in shaping and shifting travellers' views of familiar debates at home, in ways that often distinguished them from their non-travelling contemporaries.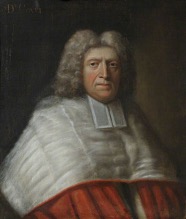 Fig. 1: Portrait of John Covel, c. 1716. Painted by Claude Laudius Guynier (fl. 1713-16), oil on canvas. Available via Wikimedia Commons.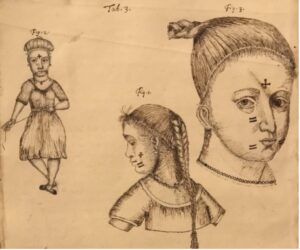 Fig. 2: Covel's sketches of Bedouin women in North Africa, whose faces were inked with crosses, though they had long since converted from Christianity to Islam. See British Library (hence BL), Add. MS 22912, 27v.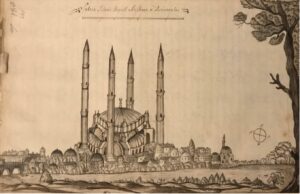 Fig. 3: 'Sultan Selym's Royall Mosque in Adrianople', drawn by the French artist Jerome Saltier, whom Covel met in Izmir. See BL, Add. MS 22912, 231r.[3]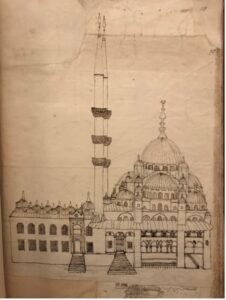 Fig. 4: Covel's sketch of the New Valide Mosque in Istanbul. See BL, Add. MS 22912, 118r.
[1]
Richard Baxter,
Reliquiæ Baxterianæ: Or, Mr. Richard Baxters Narrative of the Most Memorable Passages of His Life and Times
, ed. Matthew Sylvester (London, 1696), 428.
[2]
Covel's remarks about the sign of the cross are quoted from John Covel, 'A peice of my letter to D
r
Womock about ye Crosse in baptisme', date unknown, London, BL, Add. MS 22910, 115.
[3]
See also Jean-Pierre Grélois, ed.,
Dr John Covel, Voyages En Turquie 1675-1677. Texte Anglais Établie, Annoté et Traduit Par Jean-Pierre Grélois
(Paris: P. Lethielleux, 1998), 108–9.
Charles Beirouti
University of Oxford
charles.beirouti@new.ox.ac.uk
Biography
Funded jointly by the Arts and Humanities Research Council (AHRC) and New College, my research centres broadly on the depiction of religious diversity in seventeenth-century English and French travel accounts, particularly those written by clerics who lived, worked and travelled in the Islamic world, stretching from the eastern Atlantic to the Indian Ocean. My broader research interests include seventeenth-century European travel and travel literature; Europe's relations with and perceptions of the Islamic world from the Renaissance to the Enlightenment; seventeenth- and eighteenth-century British and French history, particularly religious and intellectual; the practice of Islam in the seventeenth-century Islamic world, particularly in the Mughal and Ottoman empires; and non-Muslim communities in seventeenth-century Islamic states, particularly Eastern Christians.
Apr 29 2021
Something I've repeatedly come up against in my doctoral research is the perception of early modern England as a homogenous entity. Matthew Greenfield has rightly observed the problematic depiction of 'English culture as a homogenous entity with clear boundaries, uncomplicated by the British question'. Happily, recent scholarship has done much to counteract this depiction, redirecting our attention to England's elision and oppression of its archipelagic neighbours and to the uncertainties this produced. I want to try and apply this thinking more locally. Perhaps in addition to being complicated by 'the British Question' the 'nation' is complicated by what we might call 'the English Question'. To that end, I'd like to turn to an underexplored moment in Henry V: the dispute between Corporal Nym and Ancient Pistol, to suggest that the oppositional dynamics of Henry V are not limited to England's archipelagic or continental neighbours but encompass a wide variety of tensions within England as well.
We first encounter Nym bemoaning his lot in II.i, having lost both his fiancée and eight shillings to his erstwhile friend Pistol. Taken on its own, the scene is a humorous episode between two of Falstaff's former drinking companions, preoccupied as usual with women and money. But when set against the backdrop of the civil unrest in Henry IV and the foreign conflict of Henry V, the scene raises questions. Just how unified is Henry's 'band of brothers'? The play as a whole insists on ideals of friendship and brotherhood while at the same time challenging and interrogating our assumptions regarding the unity they imply. The first instance of the former word appears in II.i – encountering Nym, Bardolph asks 'are Ancient Pistol and you friends/yet?' – and reappears throughout the scene. The interrogative 'yet?' sets the tone for the rest of the play, in which the bonds of friendship and brotherhood are repeatedly cast into doubt.
The scene's position is also significant. This scene displaces treason from its announced appearance; it also offers our first glimpse into popular military discontent in the play. The Chorus's assurance that 'honour's thought/reigns solely in the breast of every man' – already cast into doubt by its mention of the traitors Cambridge, Scroop, and Grey – is further eroded by the quarrel in Eastcheap, which revolves around two distinctly dishonourable actions: Pistol's theft of Nym's fiancée and his failure to pay his debts. Although the scene implies that both issues have been settled, it is by no means clear that this is the case. Pistol and Nym may be ordinary soldiers, but they are also representatives of a national military entity. Their unresolved dissent in this scene points towards broader underlying fractures in the unity of the 'happy few' Henry casts in opposition to the French.
Nym and his companions are representative of a broader lack of enthusiasm for the war which runs throughout the scenes with common soldiers, even shadowing Henry's interactions with fellow noblemen. By studying these moments of intranational conflict, then, we gain a better understanding of popular military sentiment, both in the play and in the cultural context in which it was first performed. At the time of Henry V's composition there was significant popular resentment regarding both conscription and the fees levied to fund the war in Ireland. This resentment is played out not only in the more disreputable characters of Bardolph, Pistol, and Nym, but in the sentiments of those soldiers depicted as conventionally honourable, such as John Bates and Michael Williams.
Redirecting our gaze to such moments of intranational tension in the play allows us to challenge the idea that England as a whole was a homogenous entity. This might enable us to consider how England's varied and often conflicted identities were understood by its inhabitants, then as now. In early modern London, for example, playgoers were in the midst of a substantial immigrant community composed of both strangers (those coming from overseas) and 'Englishmen forren' such as Shakespeare, who had migrated to London from more rural areas. That is not to say that some degree of division is incompatible with nationhood. Instead, let's attend to internal divisions alongside those between England and its archipelagic or continental neighbours. Doing so enables us to reconsider Shakespeare's England as a composite of parts rather than a cohesive whole, offering an alternate perspective on the problematic boundaries of the early modern nation.
Biography:
Chloe Fairbanks is a third-year doctoral student at the University of Oxford. Her research reconsiders Shakespeare's treatment of national identity through an ecocritical and spatial lens. She is the co-host and co-writer of 'On the Nature of Things', a forthcoming podcast on how people of the past understood and interacted with the natural world. She can be reached on Twtitter @fairban_c.